"Double, double toil and trouble; fire burn and cauldron bubble." -William Shakespeare, Macbeth
Yes, it's another Halloween post! I can't help myself, it's my favorite time of year! "The Plant Man" can can take or leave Halloween but me, I love it! Hmmm, maybe Halloween is the passion that has remained so elusive to me? If only it came around more often.
As you may know, my Halloween budget is miniscule so I have to work with whatever I can get my hands on. Today it's mostly dead plants, some yard waste, some paint and bang, you get a Halloween floral arrangement!
Our Halloween Floral Arrangement Supplies:
Old bromeliad blooms
Papyrus
Small branches & twigs
Dead air plant
Leaves from Swiss Cheese Plant
Spray paint – I used Black & Lime green
Spanish moss (floral foam optional)
Pot or Vase
I went outside to collect anything interesting that I could use in this Halloween Floral Arrangement. Chose my paint, and painted everything …..yup, that's about it.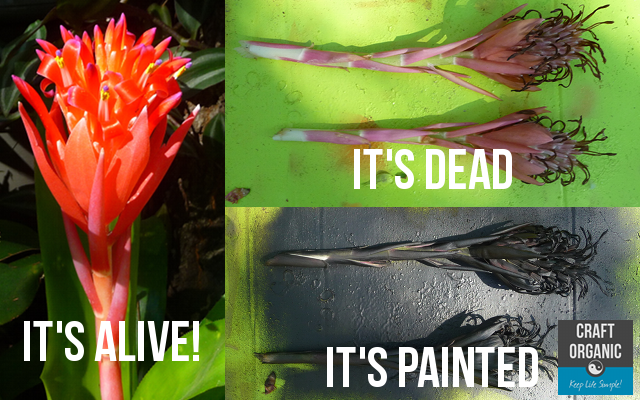 Floral arrangements usually look best when you have an odd number of any given flower. This is one helpful fact I've been lucky enough to retain but have no idea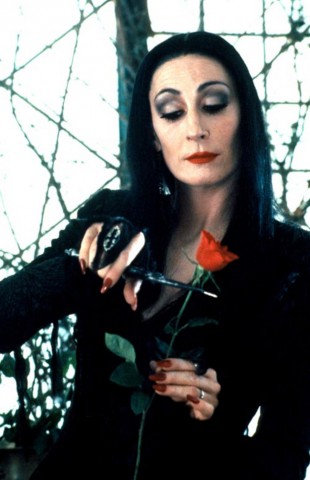 where I picked that up. All I know is that it's still in my head, although, I'm not sure it applies to a Halloween floral arrangement.
Try to remember this…
   What would Morticia Addams do???
I used the Spanish moss the same way you would use the foam inside an arrangement – you can use whichever is easier to get. The moss grows on our trees and is free so that's my choice.
I know the dollar store has the floral foam so that's a plus but that's $1 more than I paid for the moss and the dead plants all put together. A MINISCULE budget I tell you!!!
I let the moss flow out over the edges of course. Remember, it's not supposed to be pretty, it's supposed to look a little ugly, twisted and generally unattractive ….yet strangely cool.
[Email Subscribe]