Our small budget is always a concern but we do love a good Halloween party so we have to reuse everything each year but that can get very boring. We talked about repurposing Halloween last year but we thought we would share some other tips we have about decorating for a Halloween party while on a small budget.
A small budget is never ever an excuse to use balloons and streamers for a Halloween party – don't you dare! Unless the theme is "Balloons and Streamers" but we would still have to hurt you!
Small Budget Halloween Party Decorating Tips:
Think of a theme even if it's just a color theme – Like black and green.
Select decorations that can be painted easily to match the color theme. Even if they don't feel like they go together, the new paint will fix that problem.
Use cheap or clearance fabric to cover tables or all your furniture. We found an entire bolt of black fabric for pennies per yard several years ago – we're still using it. Wash it each year!
You can also use that fabric to replace your curtains – very dramatic!
Spider webs have big impact and relatively inexpensive because they cover loads of space. Even bigger impact when the webs have great lighting – try colored light bulbs in your regular lamps.
Set focal points in each room – One great focal point is better than a thin layer of chaos.
Borrow or trade decorations with neighbors even if it's just for one night when you host a party.
Think about using old costumes as decorations.
Displaying great photos of your past parties are great conversation starters.
If you've killed some houseplants – SAVE THEM – dead plants make great Hallowween decorations!
You don't have to use every decoration you own every year. Keep some packed away and allow them to be forgotten – they will be "new" again another year.
Always check Goodwill stores for just about anything under the sun – think out of the box.
Use dead branches and spray paint them.
Make it a "bring your own" party! Good friends never complain 🙂
Below are a couple small examples of how things change from year to year. We also want to mention these are all dollar store decorations.
Below: This tombstone is an example of how we change a theme with color.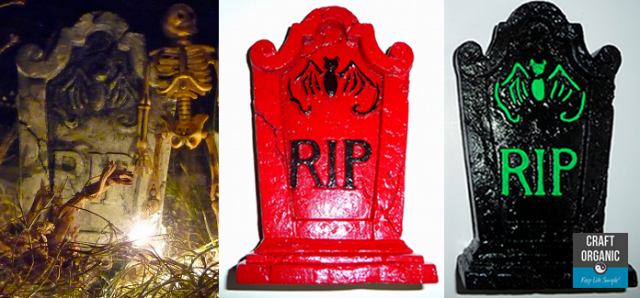 Below: Dollar store pumpkin enhanced with raised stickers from craft store.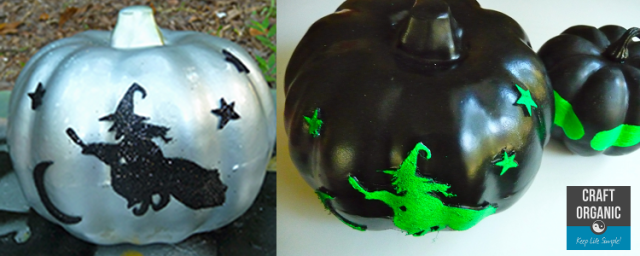 Below: Colorful "Day of the Dead" themed skeletons going dark for a new theme.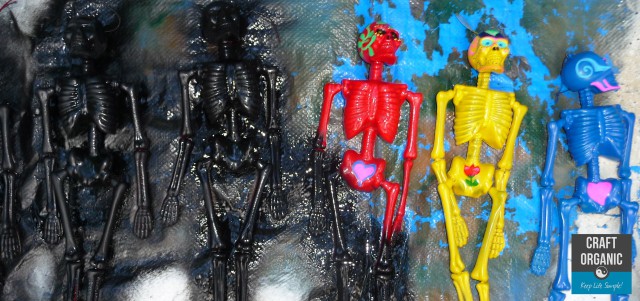 [Email Subscribe]