"When one tugs at a single thing in nature, he finds it attached to the rest of the world."  -John Muir
We just replaced our Brita water filter but it couldn't be put on the curb with the rest of the recyclables and we didn't want to throw it away. Then we discovered that Brita has a recycling program that we were very happy to hear about! As far as we know, Pur water filters can not be recycled at this time so if you're thinking of getting a filtration system, go with Brita! You should also stop buying bottled water and just refill your own eco-friendly container.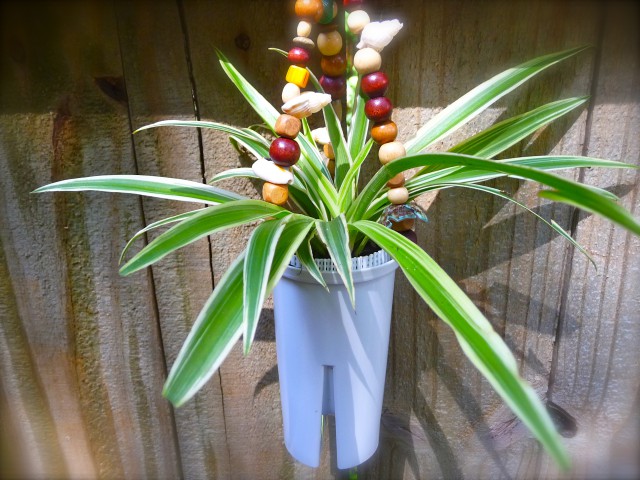 We intended to save the filter and send them away for recycling when we accumulated a few, but instead, we had another idea. We are always starting young plants and seems we are always running out of containers to plant them in. This is when I realized the water filter is genius for starting plants. It already has holes for drainage and it's and ideal size for a young starter plant.  There are a couple more simple options at the bottom of page.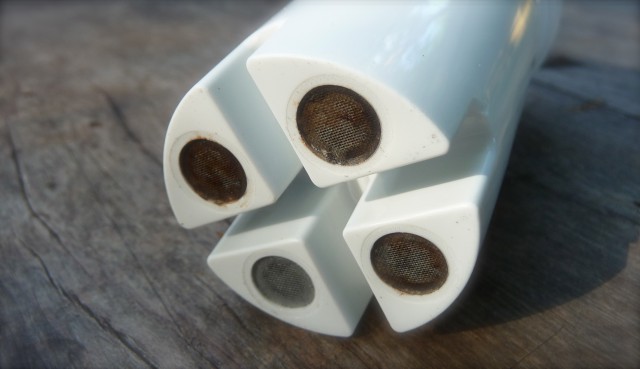 Step 1) Remove Top
Use a pair of scissors to cut the top off as shown. You can choose where you want to cut – we cut through the "mesh" part at the top because it's easier to cut and trim it.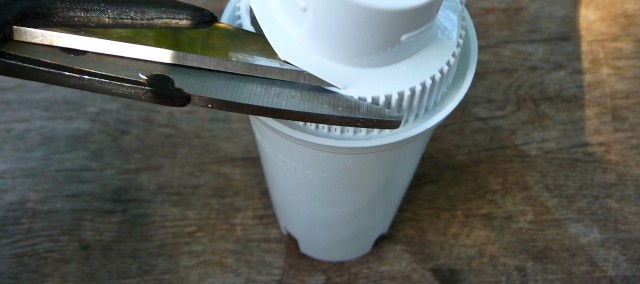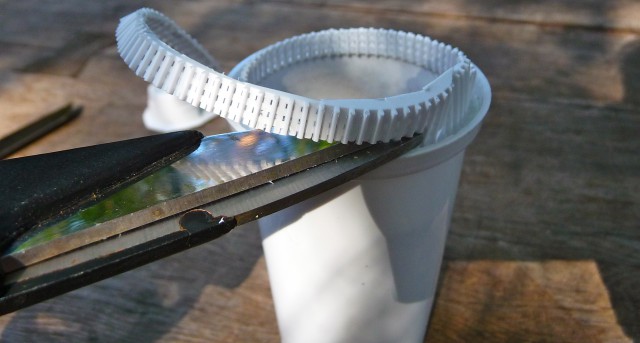 Pour the charcoal out into a bowl and set aside.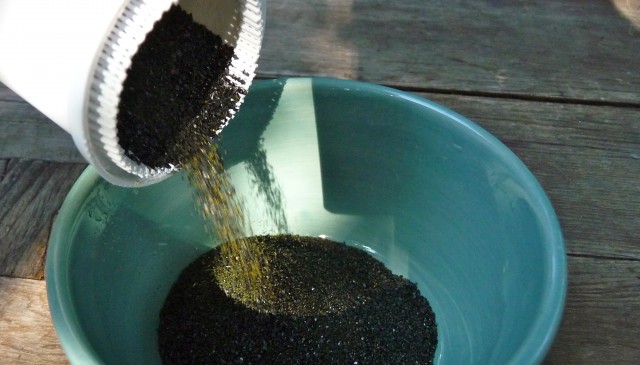 Step 2) Holes
We wanted the option to hang this thing so we had to poke 3 holes into the top side of the filter at equal distance apart. I used a corn cob holder, but you can use anything sharp and pointy.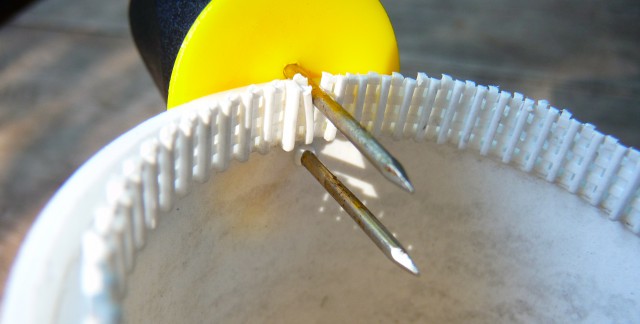 Step 3) Wire
We normally use what is sitting around the house and try not to buy extra stuff we don't need. For this project we found some wire, beads and shells that were leftover from a Halloween costume.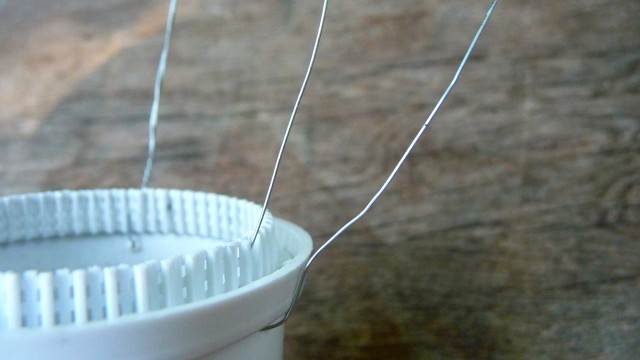 We tried different looks for this post… some with beads and some others with left over floral wire that you can see in the photos below.
 Step 4) Add Beads (or not)
We added wooden beads and shells only because they were already here. Use your imagination – there are other ways you could dress it up and it's all about re-purposing things you already have.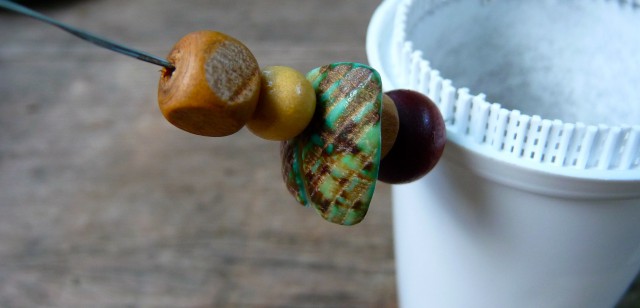 We strung up some beads and shells then made a loop with the end of each wire and twisted it to keep the beads from flying off.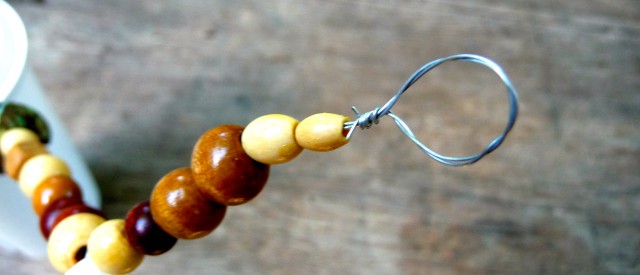 Step 5) Add Plant
We put some charcoal back into the filter for a little drainage, added some soil, then grabbed a baby spider plant and potted it.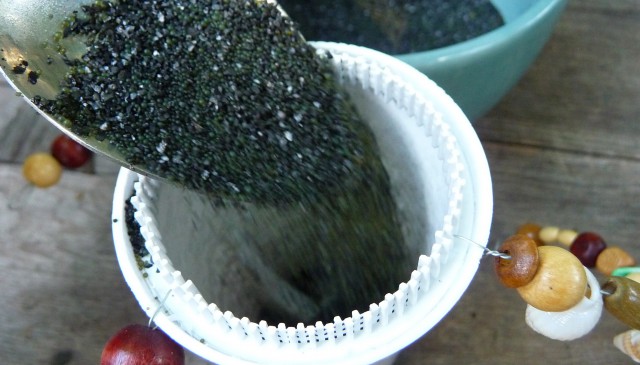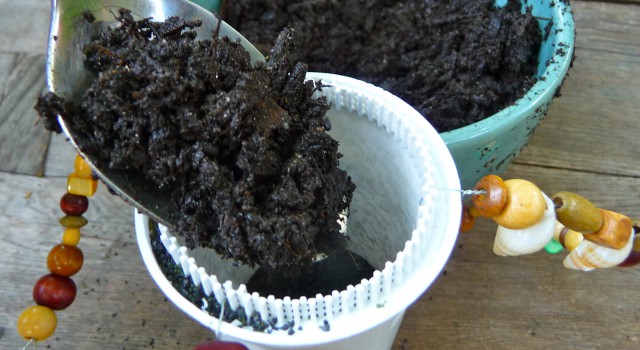 In the photos below you can see it will also sit on a table and you can bend the wires into any decorative look you want. You don't necessarily have to do what we did, just be creative and make it more elaborate or more simple.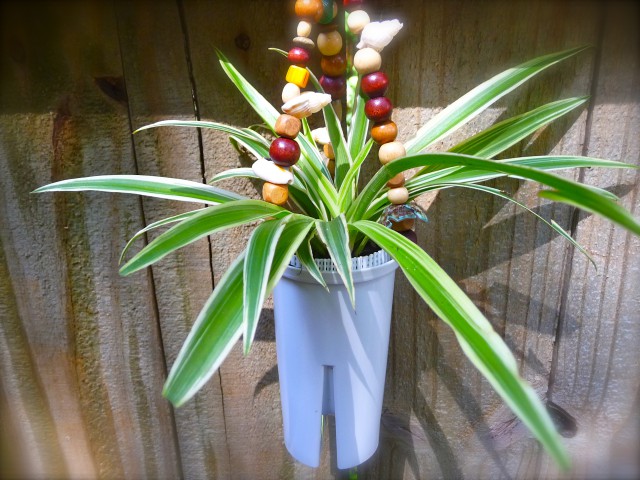 …and sometimes SIMPLE is better!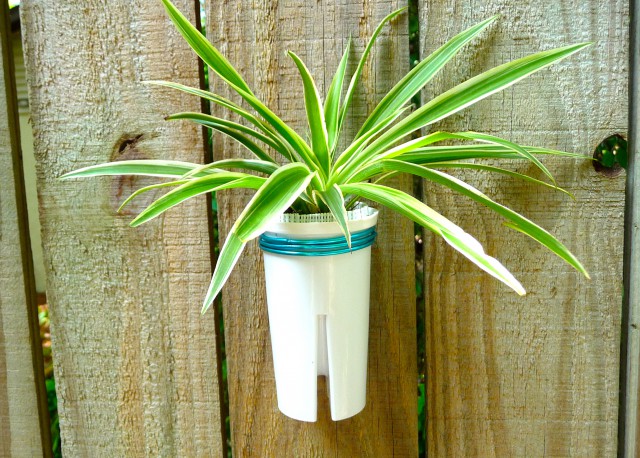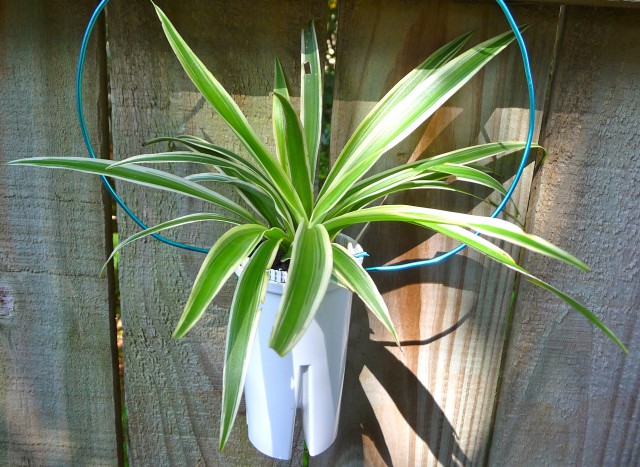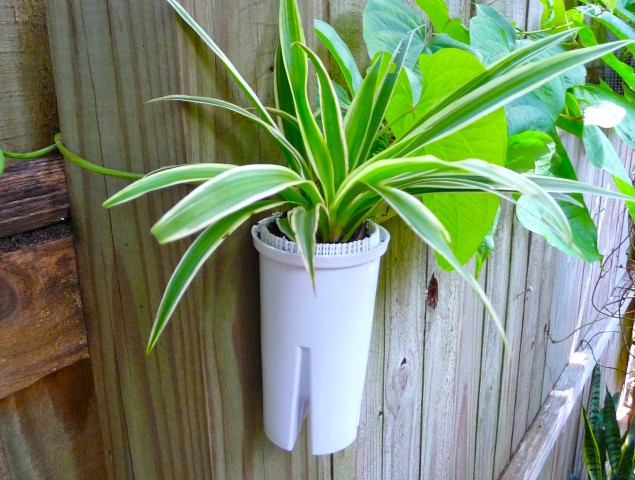 Follow us on Facebook where you can upload photos of what you have created.
[Email Subscribe]