Hello everyone, we noticed our last post was June 2016, yikes! They were pretty far and few between even before that but we're going to try to correct that and start posting again…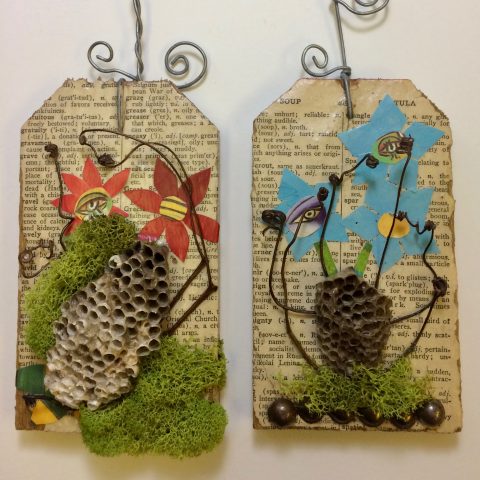 Today we wanted to show you a mod podge project we were working on that is a bit different than mod podge projects we have done.
The inspiration came about when we had some air plants on cedar plaques that were not selling. We removed all the plants to use on other projects but were left with a bunch of cedar plaques so we thought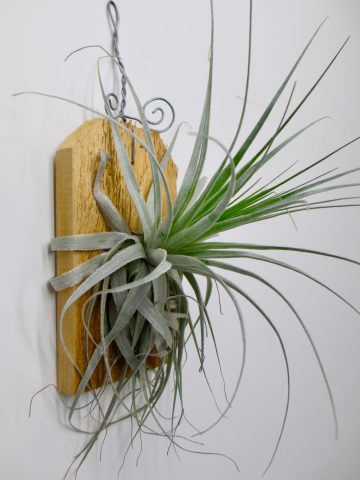 the mod podge idea was worth a shot.
We wanted to keep an organic feel to them by using nature as our guide and as our source of materials.
We had been collecting wasp nests as they become abandoned. In translation, a bird found their nest and ate them all. The usual suspect is the Blue Jay. We normally leave wasp nests as they are incredibly helpful hunters and kill many garden pests. Back to the point, we used the wasp nests in the mod podge project. Hence the mod podge in 3 dimensions, not just flat paper.
Below is a list of items we used but you may use anything you have or want to use. Sea shells for example…
Items we used:
vintage dictionary
wasp nests
dried plants (curly parts of vines)
brass tacks
magazines or old books
E6000
Mod Podge (of course)
The cedar plaques are approximately 3.5 x 6 inches so they're a nice easy size to manage.
Since this isn't rocket science we'll list the steps we took…
Mod podge plaque and apply the vintage paper background. Allow time to dry. Many old books can be found at mom and pop used book stores. Many older books don't have much value so we'll make them into art.
Apply 2nd coat of mod podge over paper, allow to dry.
With the E6000, glue wasp nest and the little sticks (parts of vine in this case). Allow to dry.
Create flowers or whatever you choose with magazine (or old book) clippings. Modpodge them down and allow to dry.
Mod podge over everything including wasp nest and sticks….do this gently. It will give extra strength to the nest and twigs.
Glue the moss and allow to dry.
That's pretty much it! Some people like putting down extra coats of mod podge and if this makes you feel better, then an extra coat won't hurt.
If you have any questions please ask us in the comment section.
We hope you were inspired!
Follow us!