I don't remember if I mentioned it, but tillandsia (air plants) can be mounted to stone the same way they are mounted to wood sooo… the Plant Man picked up a box of lava rocks that you would normally use for your grill and came up with a few different creations for you.
A masonry or all-purpose drill bit is needed to make holes in the lava rock in order to wired them all together. We used a heavy galvanized steel wire and the glue is E6000.
Lava Rock Clusters
We drilled two holes in each rock and wired both holes. They were all wired closely together to form a cluster of rocks.
We decided to fill in a little bit with sheet moss at the base of the plant.  The moss was glued into place with E6000.
Lava Rock Chain
Drill two holes per lava rock and wire them together with much more space in between to form a long chain of rocks, similar to a rain chain.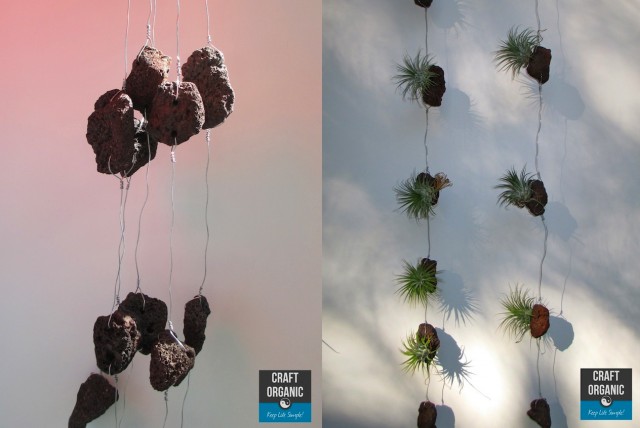 We mounted one plant per rock and all facing in different directions.
Single Lava Rock
If you want it to hang then start by drilling one hole in each lava rock then wire it. The length of wire depends on how low you want it to hang from wherever you hang it from… ours were sort of random but it was around 1 ½ feet of wire.
Glue the base of your plant to the rock.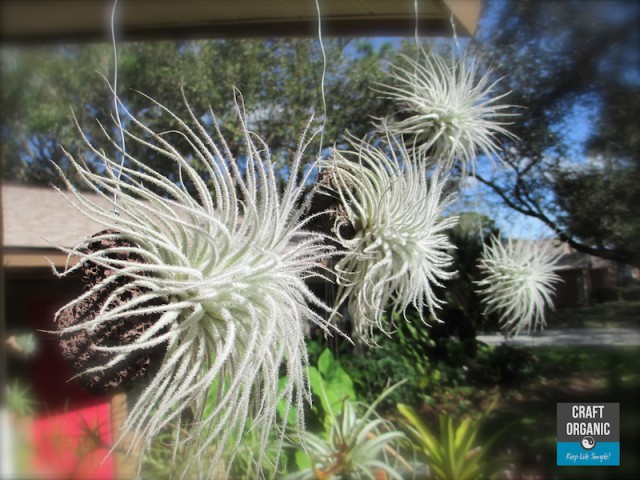 The very cool puffy air plant is Tillandsia Tectorum.
In any of these projects you may need to tie the air plants down with a little raffia until the glue sets unless you want to sit there and hold them in place. Go with the raffia!
We had other ideas using lava rocks that didn't make it into this post….perhaps they will at a later time.
[Email Subscribe]
Follow Us