We've never themed an entire party in black light – we've found that they are best used as an awesome focal point in a dark corner or other area that won't be getting a lot of light. You'll no doubt have at least one party guest who has false teeth who doesn't want to be outed by your black light, so keep the lights in one room or small area or tell them to keep their mouths shut and stop complaining about their teeth!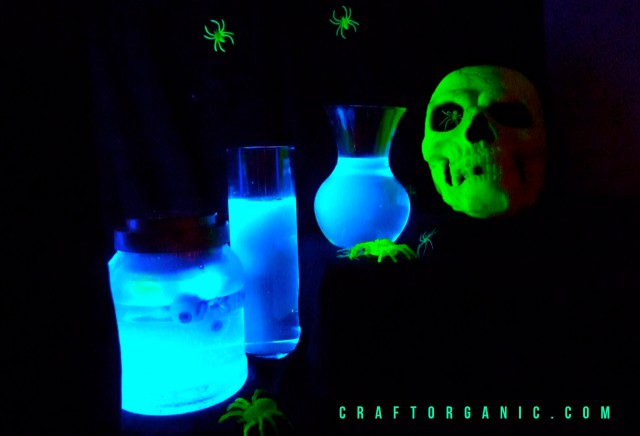 Fluorescent vs Incandescent Bulbs
We have found fluorescent black light is far superior to the regular incandescent bulbs – don't waste your time on the regular bulbs. The drawback on fluorescent bulbs is that you need to also buy the fixture.
Since the introduction of the energy saving CFL bulbs, they have now come out with CFL black lights, but to be honest, we have never tried them. We would assume they would work well since they are fluorescent but that's only an assumption. Definitely worth trying!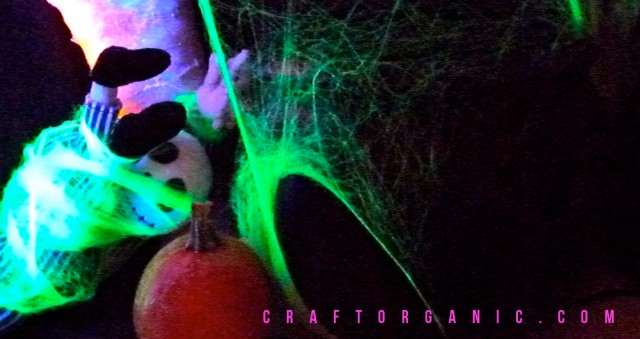 IMPORTANT: Black Backdrop!
Anywhere you plan to have black lighting you will definitely want to have some sort of black backdrop – black fabric works GREAT! We mentioned how we found an entire bolt of black fabric on clearance in a previous post – try Walmart. This really makes everything POP like crazy! We wouldn't bother without it! Fabric is best – it's versatility lets you drape it over things as well as using it as a backdrop.
A Few Things That Glow:
Tonic Water (mix it with tap water to stretch your budget)
White paper/clothes
Petroleum Jelly
Antifreeze
Laundry Detergents
Fluorescent Paint
…there are more – Google search to your heart's content
Glow in the dark spider webs (usually green) look awesome under black lights! Your Halloween store will usually have a glow in the dark section all set up for you. If not, they're idiots!
Not everything you put under a black light needs to glow. You can see in our photos we used a combination of things.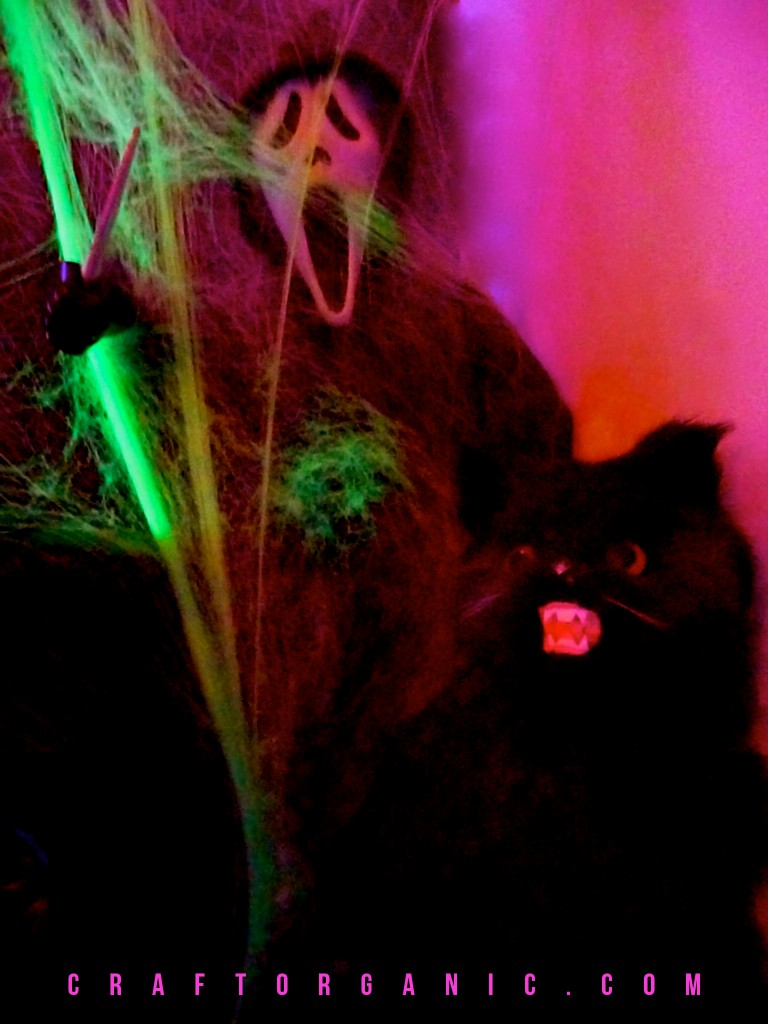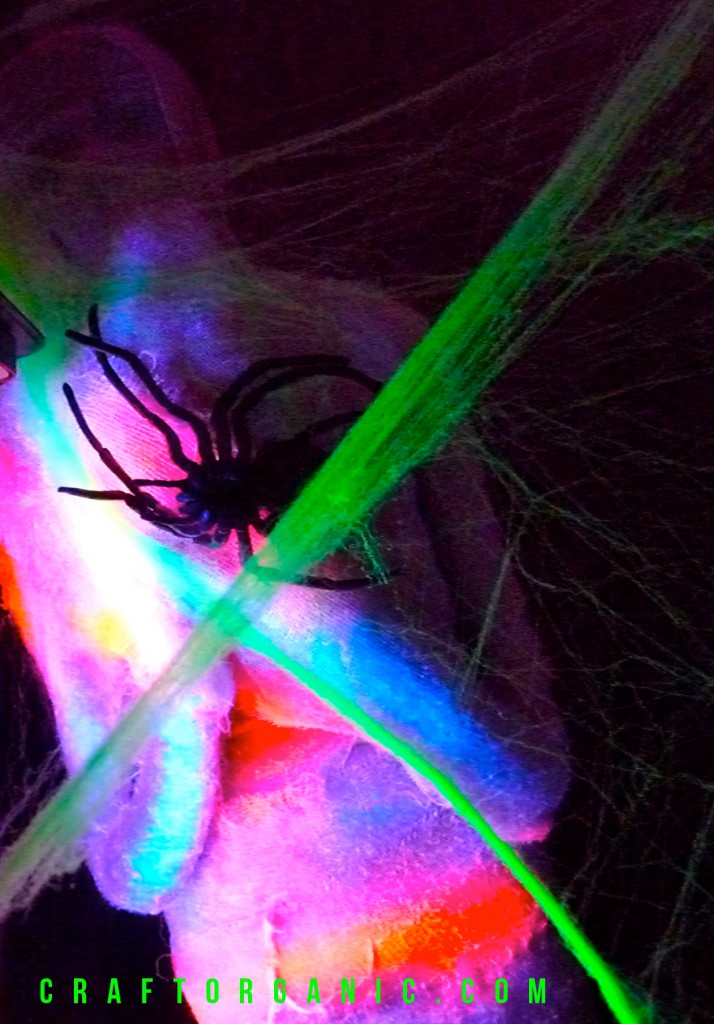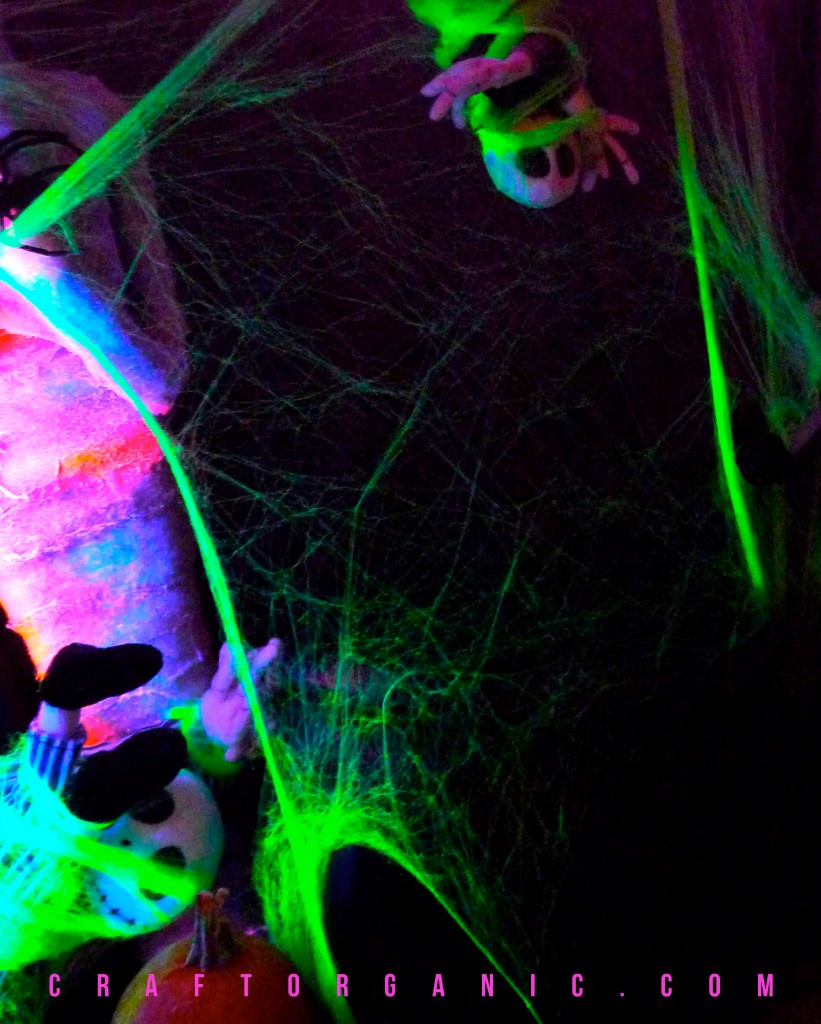 Before you set all this up, do a sweep of the designated black light area with a black light. Make sure you won't be outing yourself or your pet on the bodily fluid spills that happen in your home! Better to check in advance than wait til party guests have arrived.