"The purpose – where I start – is the idea of use. It is not recycling, it's reuse." -Issey Miyake
CFL and LED light bulbs are all the rage because they're allegedly environmentally friendly but many of us still have some of the old school varieties here and there, like in the fridge.
If you don't want to waste your burned out, incandescent light bulbs, we have a very simple way to recycle them. The best kind to use are the clear, non-frosted kind because you won't have to wash out the frost which makes it one step easier.
Things you'll Need…
Clear light bulb
Tweezers
Wire
Wire cutters / Needle nose pliers
Suction cup with hook
You may not use all the tools but it's nice to have them handy if you do.
Step One: Removing The Thingy
We didn't know the "thingy" was called an electric foot contact until we Googled it. Now we know, but we still like calling it the "thingy."
Proceed with caution on this one because this is glass and we don't want you to lose a finger or lots of blood so, for the love of God, be careful. It's a good idea to hold the bulb in your hand while wearing a heavy duty gardening glove, heavy piece of cloth, or some newspaper. If it does break you'll minimize finger loss. Also, having protective eye wear is never a bad thing! If you have no eyes you won't see what you have created.
To remove the foot contact, hold bulb in one hand and using tweezers or needle nosed pliers, remove the little piece of metal.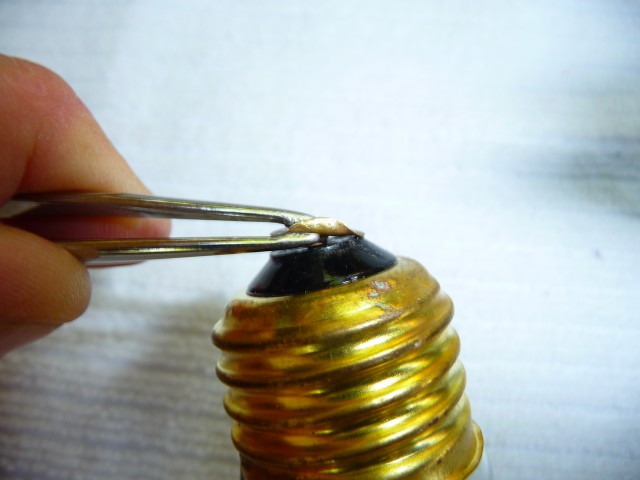 Step Two: Remove Glass Support
Next you will see that dark colored glass….you will have to break it to get it out. We cracked it by wedging the tweezers in the hole then removing the rest with the pliers. Be mindful of flying glass! If you don't have tweezers because you love mono-brows then a tiny screwdriver or other tool that fits in the hole will work to crack the glass.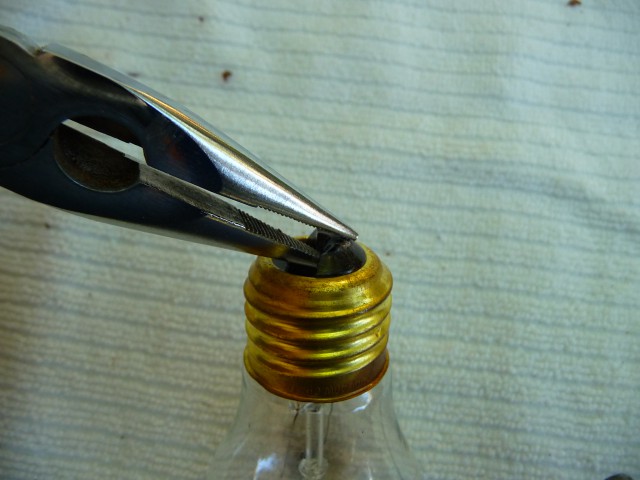 After the dark glass is gone you'll see clear glass which is the glass mount or support that holds the wire and filament. It all comes out….just give it a light tap until it breaks and pull it out with pliers and/or shake it out. This is what you should have!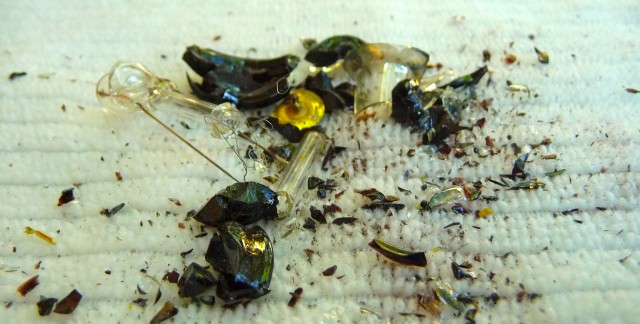 Step Three: Make Wire Support
We used wire to hang and support the light bulb by creating a spiral and wrapped it around the bulb.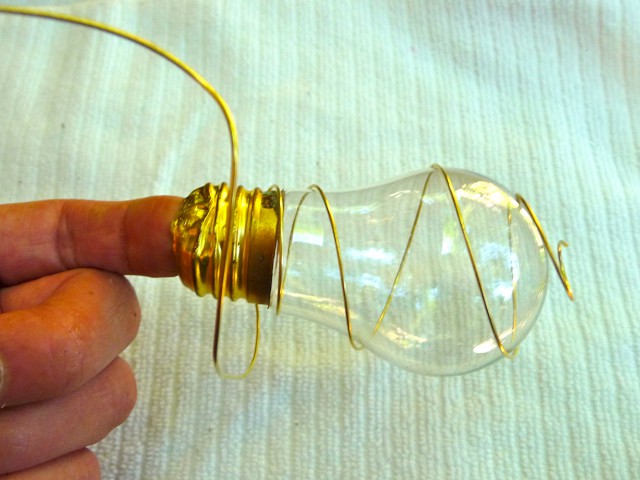 We used part of the metal on the light bulb to secure the wire by bending over the wire. If you prefer to use glue, go for it.
Then we created a loop and twisted the wire.
Instead of cutting off our extra wire we made another spiral. You can be as creative as you want. The important part is making is strong enough to support the weight of the small amount of water you place inside for your plants or flowers.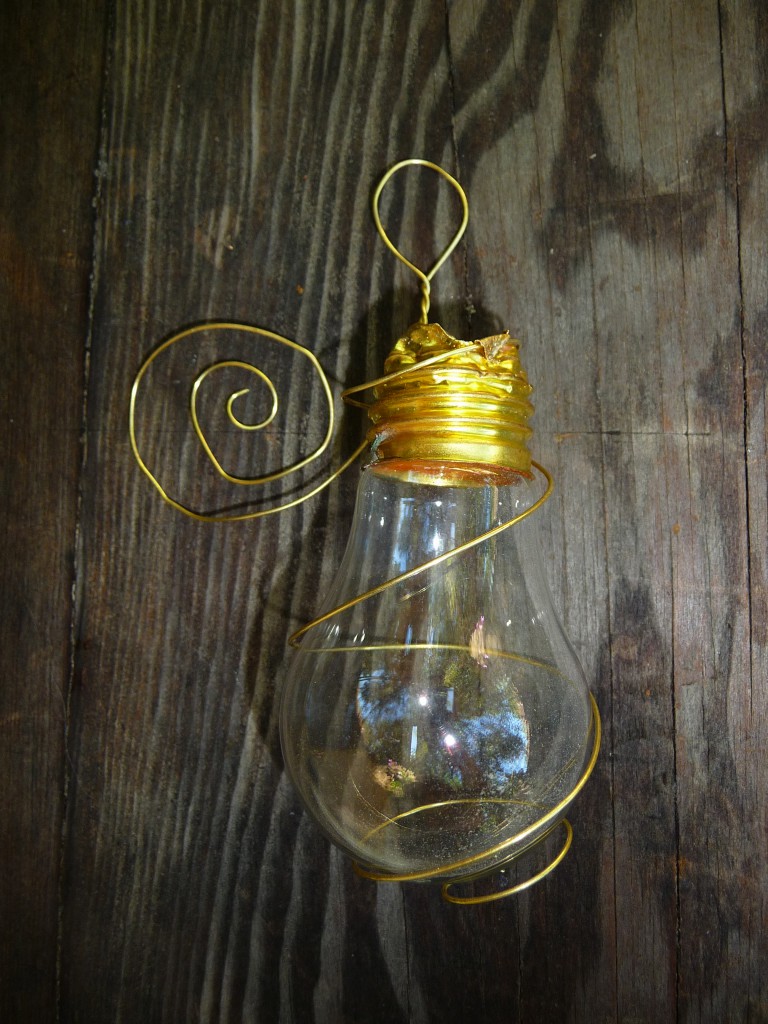 Step Four: Light Bulb Vase Done!
All there is left to do is put your tiny plant in your mini light bulb vase with some water and hang in a window with a suction cup or on you wall or fence with a nail.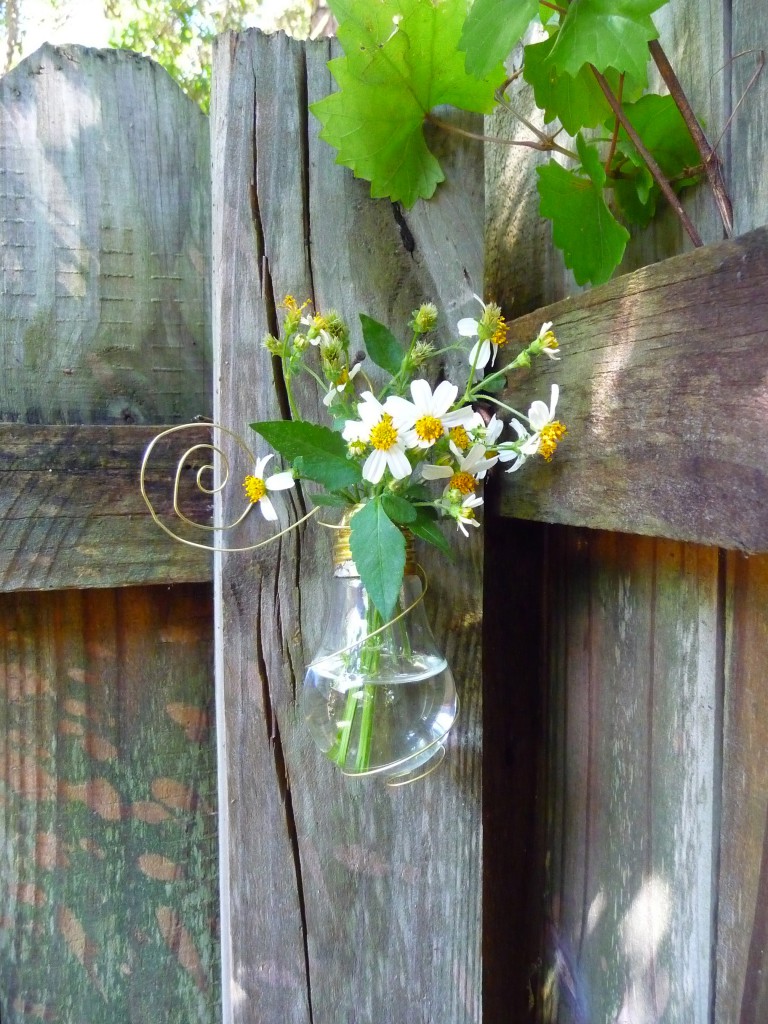 Recycle, recycle, recycle!
[Email Subscribe]