Atomic Holiday Bazaar 7th Annual Indie Craft Show!
Greetings Earthlings and Aliens! If you live near Sarasota Florida, or will be visiting on December 8th or 9th, there's a show you will not want to miss! So pull over and park, anchor your boat or land your flying saucer because it's Atomic!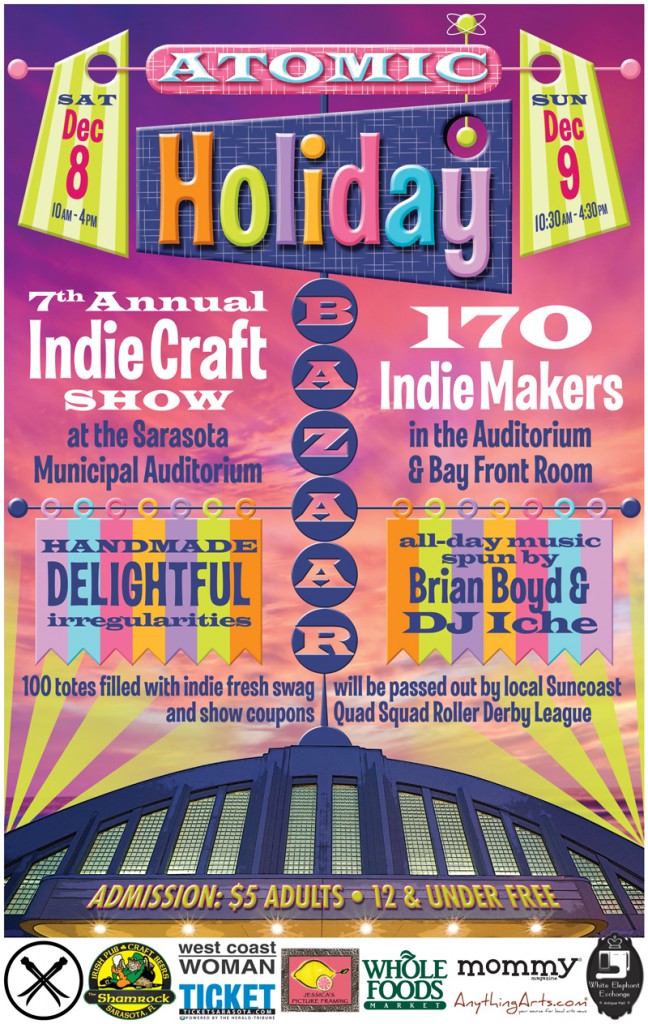 The best way we've heard it described is, "It's not you grandmother's craft show!" So you won't find any tissue box cozies made of yarn and old beer cans. Yes, Grandma likes a beer now and then!
The Atomic Holiday Bazaar was our first exposure to the arts and crafts world of Sarasota just days after we moved here in 2010 and what we saw when we walked through the door was definitely not what we expected! It's fun, the energy is very upbeat and there were a lot of truly unique and amazing things and equally unique and amazing people!
The Craft Organic Table
Our focus for the show will be air plants, air plants and more air plants! We will have approximately 30 varieties to choose from, both large and small, so get there early rather than later because this is a popular show!
One-Stop Holiday Shopping!
The Atomic Holiday Bazaar is your one-stop holiday shopping destination! You will find great gifts for anybody on your list! Go ahead and bring your reusable tote bag (or two or three) and lots of cash!
It will be at the Sarasota Municipal Auditorium located at:
801 North Tamiami Trail, Sarasota, FL 34236
Saturday, Dec 8th 10am – 4pm
Sunday, Dec 9th 10:30am – 4:30pm
Our table will be located in the Bay Front room! And yes, this is the auditorium that looks like the Hall of Justice from the Super Friends! It makes me want to wear my Wonder Woman tiara, and yes, I have one!
Atomic Holiday Bazaar      Atomic on Facebook
Sorry, I can't leave without adding some of my favorite & relevant music!

[Email Subscribe]