"May your time be filled with relaxing sunsets, cool drinks and sand between your toes." -Anonymous
Living about 4 miles from one of the top-rated beaches in the country, we felt we needed an, "At the Beach" beach-style sign. It's a lifestyle that allows you to be as lazy as you feel like and nothing ever happens in a hurry, or at least that's how we like to keep it!  If you make this sign remember the following: lazy, relaxed, & who cares.  (see updated photo at bottom)

We took a Cedar Grilling Plank that we picked up at the hardware store but we don't have a grill so there was no point in keeping it for that. One day, out of complete and utter boredom we grabbed the wood burner and burned, "At the BEACH" into the cedar plank. It helps to lightly write it out in pencil first – we (mostly me) found out the hard way.

We had these seashell ornaments leftover from another day when we were bored to tears and so we used them too. Basically, they are seashells with starfish, and seahorse charms bound together with copper wire. Nothing too fancy as we're trying to keep with the relaxed feel of a beach. Under-thinking it is a good thing.
These were attached by drilling holes in the cedar plank then threading the wire around in any haphazardly way you want. There was no measuring – just eyeballing – and there's that relaxed, careless beach feel again. Seriously, you don't want a beach sign to be all pristine and clever, you just want it to say, "you are there." Physically or mentally….it all works.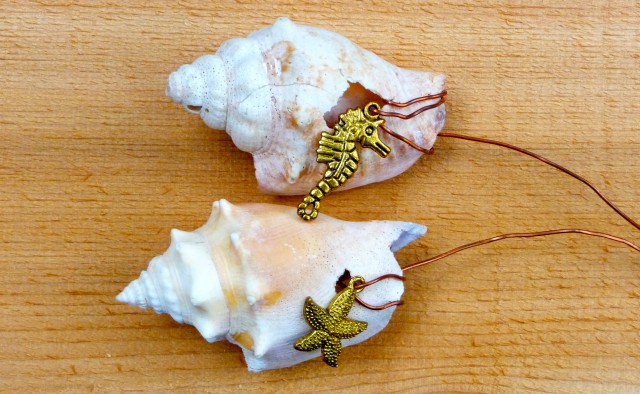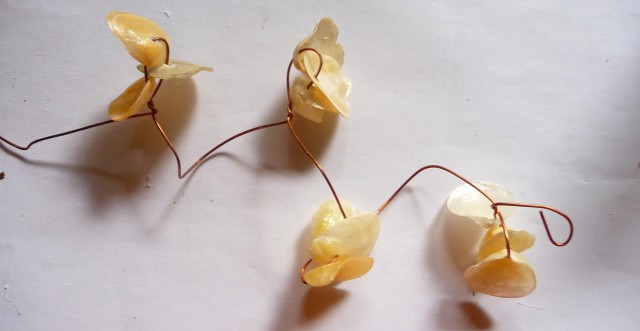 Sometimes the shells have natural holes and sometimes you have to make them. For this project just use the ones with holes because it's supposed to be E A S Y.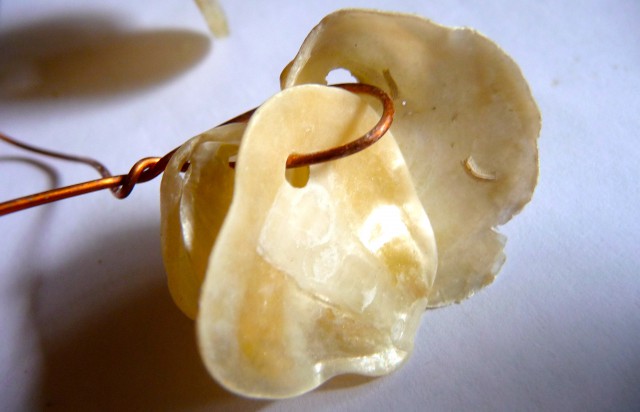 For a little more beachness (not a real word) we added some shells we collected and a bit of vase filler sand as we were too lazy to go get actual beach sand. All ya do it squirt generous blobs of E6000 glue about the plank and press in some shells, pebbles, and then pour some sand all over it. Press it into the glue just a bit then wait for it to dry for a short while.



After the glue has dried a bit, dump off the excess sand. Repeat until you have reached your own personal level of satisfaction or just stop after that if you're too lazy to go on.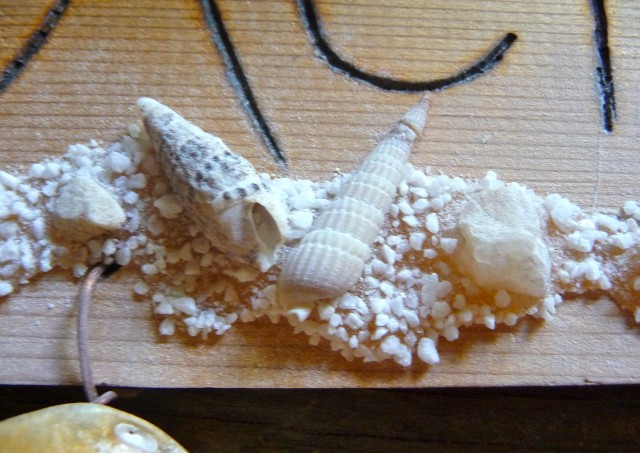 You will have some sand residue on your sign – use a damp cloth or brush to wipe it off or just wait for it to rain.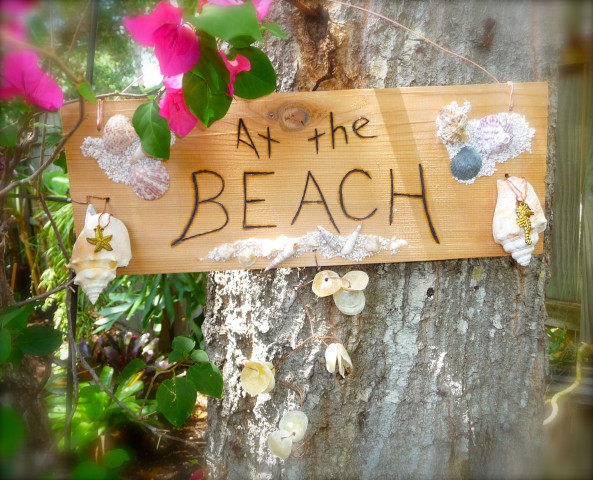 If you find more cool stuff at the beach you can always add to your sign as the summer crawls by ….or not. We probably will so check back over the summer!
Update: August 21, 2012

So….it didn't quite turn out like I thought…
Note to self: DO NOT drink vodka while gluing seashells!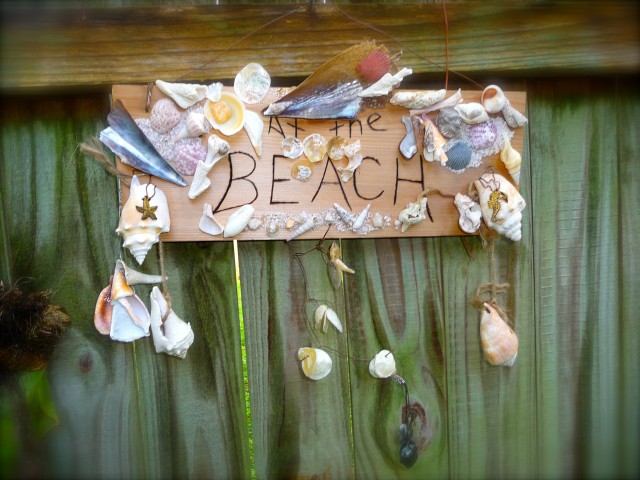 Update: April 12, 2013
I kept looking at that sad looking sign hanging on the fence so I reworked it a little bit…  Nothing spectacular but I can live with it now.
I took off most of the shells I applied while drinking vodka, added some air plants and nautical knots, then antiqued the photo for fun…
Disclaimer: Hanging a sign on your door telling people you aren't home isn't really that great of an idea unless you're trying to help your local burglar.
Check out Seashell Wind Chime and Beach-Style Vase
[Email Subscribe]
Follow Us